Groups like Carson's Village and The WARM Place provide logistical and emotional support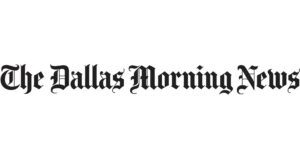 Carson's Village founder Jason Dyke holds family photos of his late son Carson at his home on Thursday, Feb. 24, 2022, in Coppell, TX. Carson's Village provides families with the logistical resources needed to navigate after-death care.
(Juan Figueroa / Staff Photographer)
By Marin Wolf
6:00 AM on Feb 28, 2022
Update: During two years of the pandemic, more than 14,200 North Texans have died from COVID-19, with more than 900,000 U.S. deaths. This immense loss has led to a second pandemic, one of grief. In this series, The Dallas Morning News reflects on the impact such loss has had on families, and how they might find a way forward.
Everyone grieves death differently. Some people need space, while others need to be embraced by those around them. Some people need both.
Navigating the responsibilities following a loved one's death – like getting the loved one's affairs in order – often leaves little room to address intense emotions. And even though some may expect life to return to normal after a few weeks or months, those intense feelings don't just cease to exist.
Jason Dyke confronted these complexities after his 11-year-old son Carson's suicide in 2017. He leaned on friends to help with the little details he couldn't have prepared for, like discussing funeral pricing with funeral homes.
"They just took care of us," he said. "And I realized that I needed to pay forward the generosity that was given to me."
The experience inspired Dyke to create Carson's Village, a non-profit, to offer other families the same support his friends gave him in the days, weeks and months after Carson's death.
It's one of many local organizations dedicated to grief support in North Texas, providing resources that have never been more important than right now, as an estimated 128,000 people cope with the loss of relatives in the Dallas-Fort Worth area to COVID-19.
Carson's Village founder Jason Dyke poses for a photo at his home on Thursday, Feb. 24, 2022, in Coppell, TX. Carson's Village, named after Dyke's late son Carson, provides families with the logistical resources needed to navigate after-death care. (Juan Figueroa / Staff Photographer)
Carson's Village alleviates pressure put on families by the pile of tasks required after a death, including negotiating with funeral homes. Dyke and his team call several funeral homes on behalf of a family so that they can get the best funeral options for their financial needs.
The organization also offers a step-by-step guide that families use to settle the affairs of the deceased.
"I want you to have all the information you can have and make the best decision you can for your family," Dyke said. "Our job is to get in the decision-making circles as early as we can so we can let them know what to do."
While Carson's Village primarily provides logistical support, other local organizations provide emotional support. Churches, hospitals and non-profits across North Texas convene grief support groups to provide those in mourning with a sense of community.
And community is critical in healing from a close loss, said Dr. Madhukar Trivedi, director of the Center for Depression Research and Clinical Care at UT Southwestern's Peter O'Donnell Jr. Brain Institute.
"There is a social connectedness that actually increases following some loss. Unfortunately, with this COVID experience, that has been limited," he said. "The sense of isolation or loneliness is what I see as the biggest challenge for people, and there is no easy way to seek that support."
The WARM Place, a Fort Worth-based non-profit, specializes in peer-support for children grieving the loss of a loved one. Their support groups, organized by grade level and the type of death loss a child has experienced, offer a safe space to talk about feelings with people dealing with similar situations.
The WARM Place, a Fort Worth non-profit, provides peer-to-peer grief support for children and families mourning the death of a loved one.
"It's just giving them an opportunity to express their feelings and understand that a lot of feelings can come up all at once," said Dana Minor, program director at The WARM Place. "We give them space to be able to share what they are curious about or confused about or even just let them share what they're missing about their loved ones."
Grief, though long and complicated, is an important part of understanding and processing the effect a death can have on a person's wellbeing. With the additional stresses added by the COVID-19 pandemic, it's especially important to address that grief, Dyke said.
"Everybody deals with grief in a different way," Dyke said. "Just remember that, whether they pass from COVID or not, no matter what the death certificate says, you've got a loss and you're grieving that loss in the COVID environment."